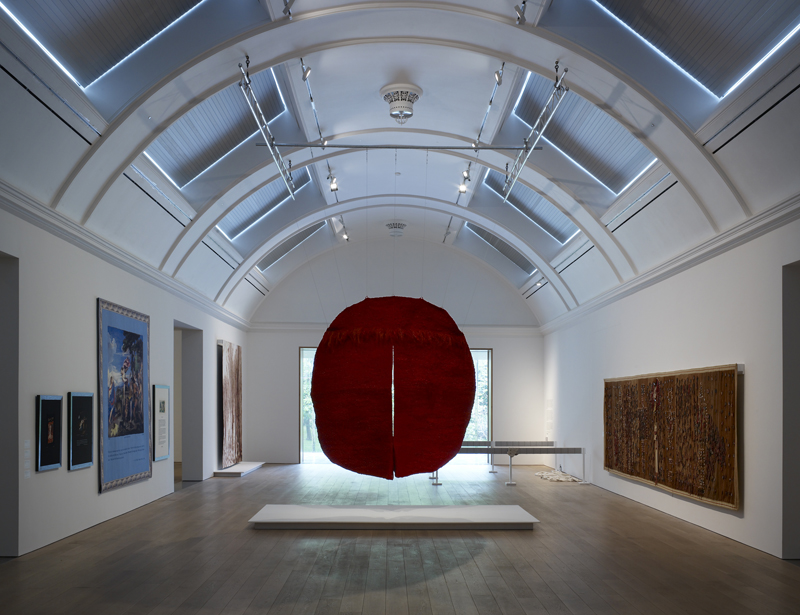 One more exhibition of textile art in the context of fine art proving that the trend towards more textiles in art is still going strong. This one has a typical British view with celebrities like Grayson Perry and Tracey Emin and some names from the former Commonwealth like Mary Sibande. The work Red Abakan is the most important work here, on loan from the Toms Pauli Foundation.
Here the press text:
Art_Textiles, a new exhibition – taking place from 10 October,2015 until 31 January,2016 at the Whitworth Art Gallery in Manchester – celebrates the unique relationship between the Whitworth's fine art and internationally significant textiles collection. Exploring the ambivalent status of textiles as an art medium, the exhibition will look at how textiles are playing an increasingly central role in contemporary art practice, and how artists have used them as a powerful tool for expressing ideas about the social, political and artistic.
Traditionally situated on the borderland between art and craft, textiles are enjoying new currency as a visual arts medium. Bringing together art works from all over the world, the exhibition includes established names like Magdalena Abakanowicz, Dorothea Tanning, Faith Wilding, Grayson Perry and Tracey Emin. It also introduces exciting new talent such as Mary Sibande, whose work explores identity in post-apartheid South Africa and stereotypes around the black female body.
A traditional association of textiles as a domestic craft linked to women and gender issues continues to be deeply implicated in textiles. Feminist artists from the 1970s onwards have reasserted the value of traditional domestic crafts like embroidery, crochet and quilting and used them as a subtle means of subversion. A growing body of contemporary art demonstrates a new engagement with the materials and techniques of crafts, particularly textiles, raising questions around femininity and the politics of identity and nationhood, as well as the value of the handmade in the digital age.
This timely exhibition will collapse perceived boundaries between art and craft and challenge visitors to rethink the significance of medium in art and the role of materials in constructing meaning.
For further information see www.manchester.ac.uk/whitworth.