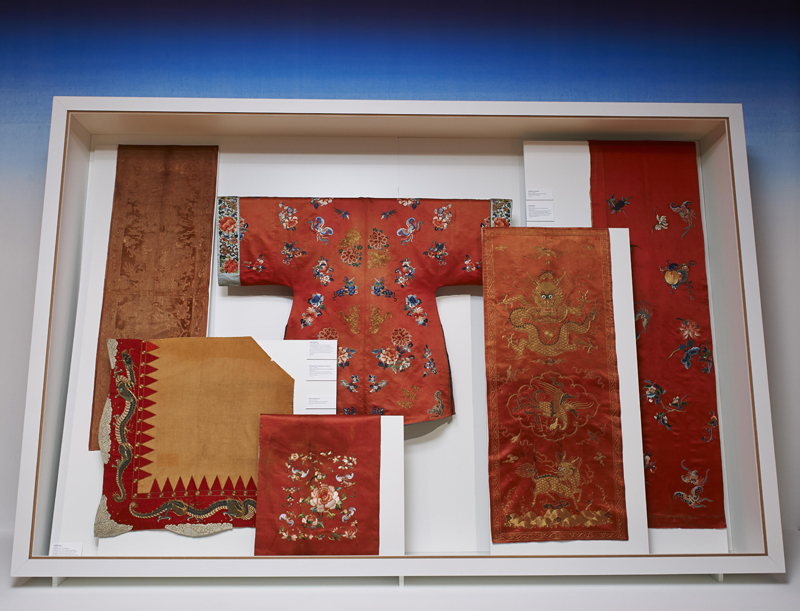 From 22 March until 30 December 2014 the Textile Museum St. Gallen is showing rarely shown objects from their collection of Asian textiles together with little-known pieces from the Swiss textile industry. In this exhibition China, Japan and Switzerland have a dialogue which testifies that the domestic textile designer found his own answers on the opulent imported goods, appearing since 1870 in the West. A selection of hand embroidered and woven textiles from Asia is contrasted by Swiss machine embroidery from around 1900, followed by Japanese katagami printing and Glarus red print as a pendant . Finally, the exhibition is devoted to the question of what impulses from Asia have influenced the Swiss textile designers from 1900 to the present .
The large katagami collection of Textile Museum is represented with 100 templates and woodcuts for kimono designs , as the Eastern Swiss textile industry had a pioneering role in establishing contacts to the Chinese and Japanese silk trade of the 19th century . Research on pattern books, katagami and design drawings of the museum as well as contributions to the history find their way in the accompanying publication to the exhibition.
In a project of the University of Lucerne and St. Gallen Textile Museum an installation for the exhibition has been created , giving the opportunity to reflect on current trends in design and their relations to other cultures and eras.
The museum offers guided tours in German , French and English !